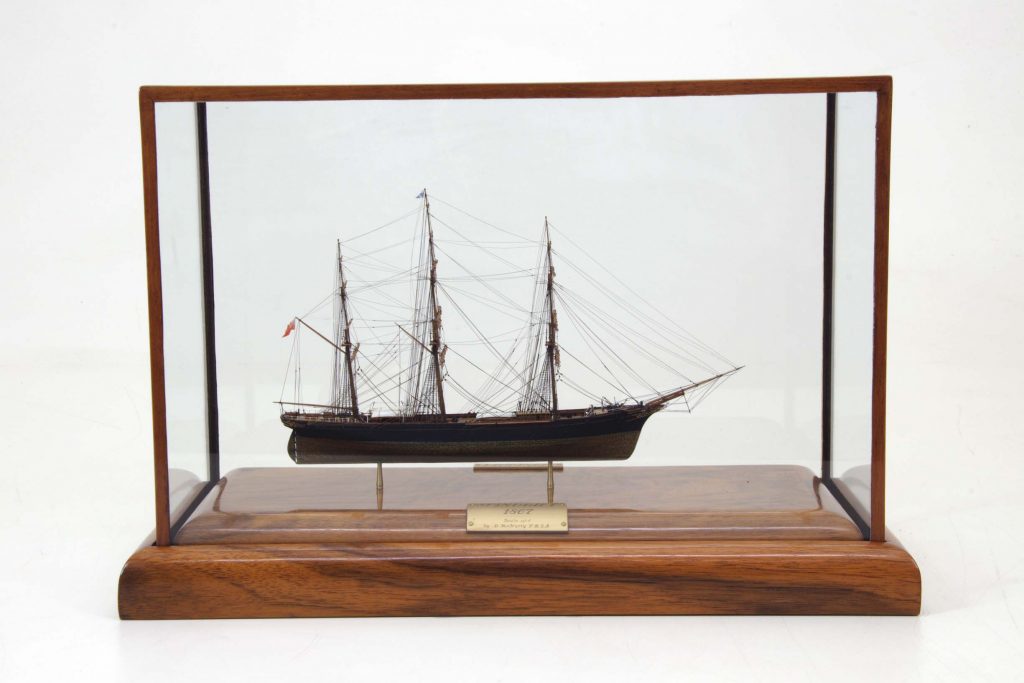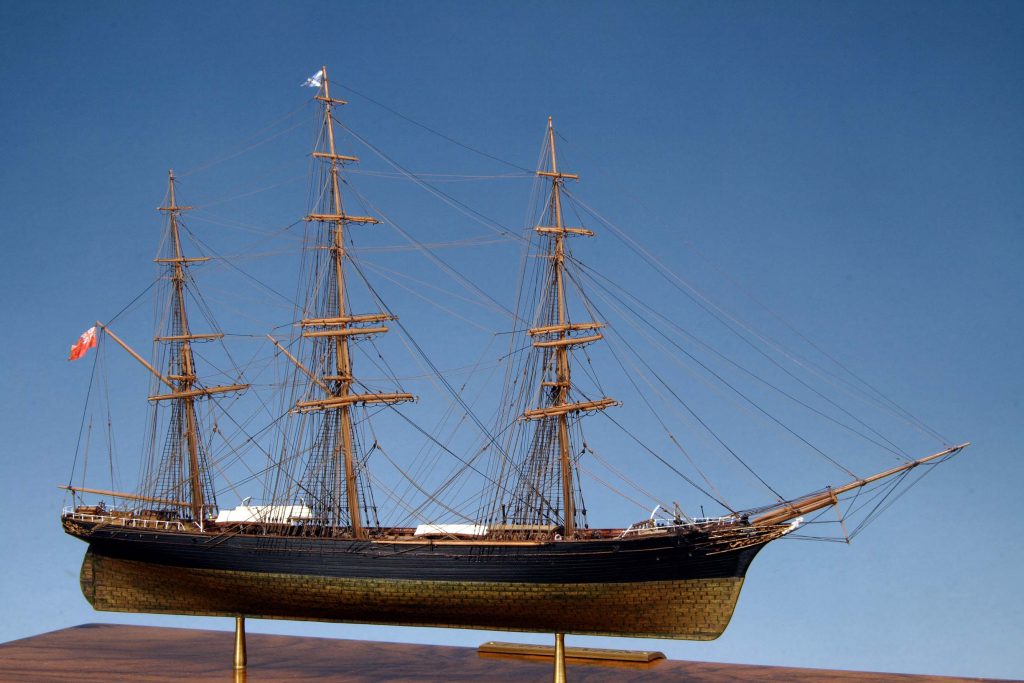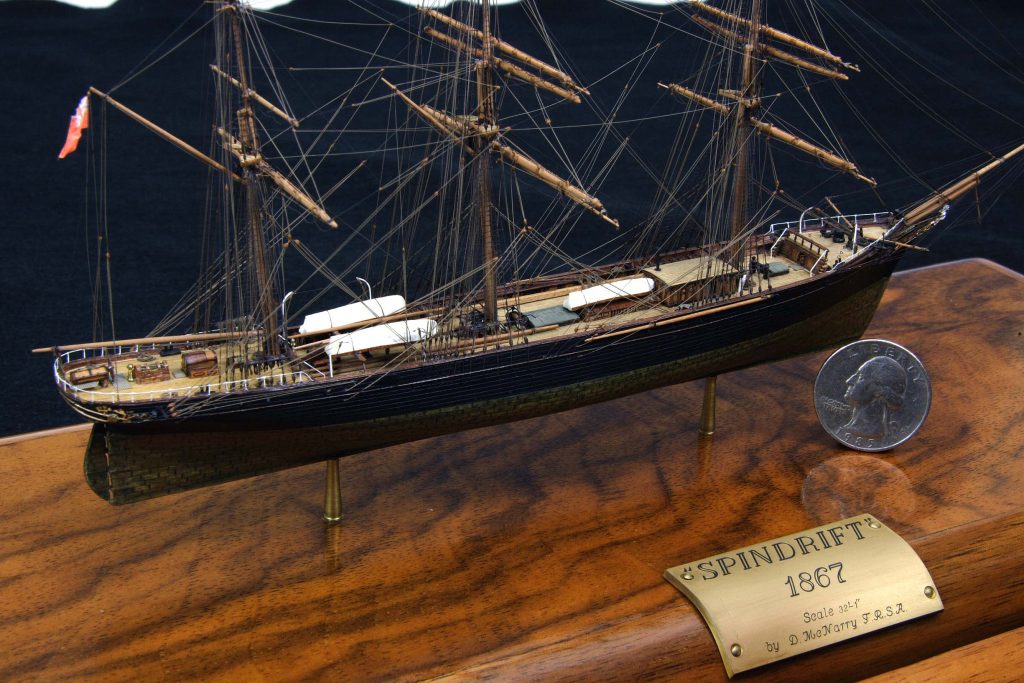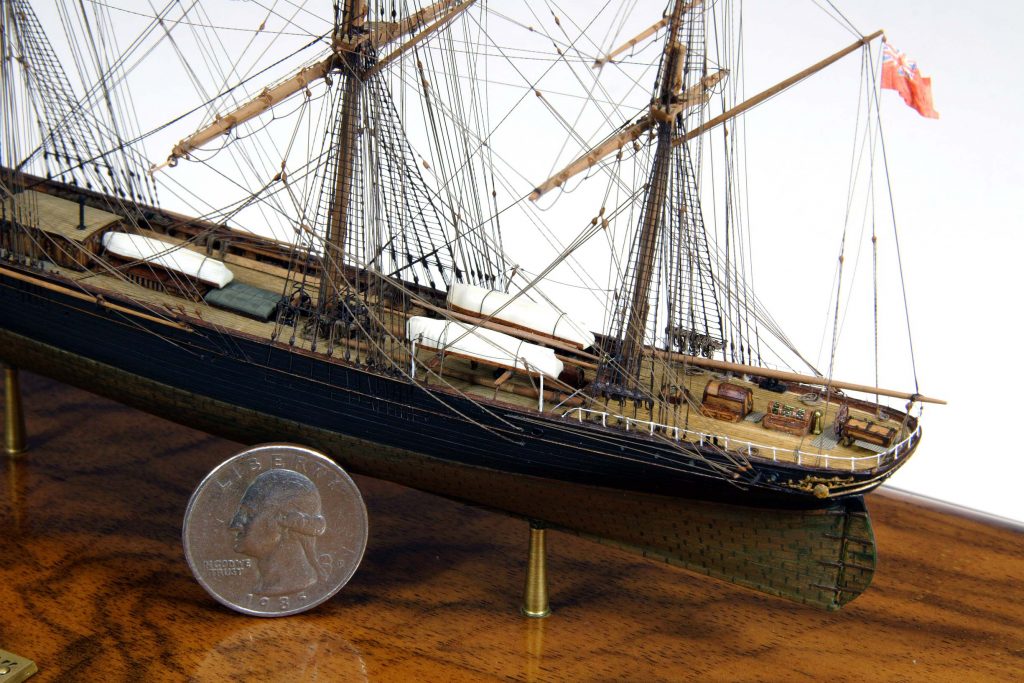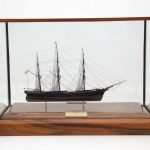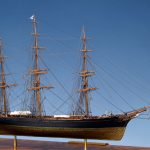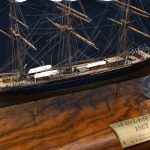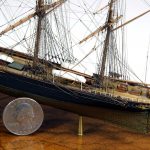 By: Donald McNarry, FRSA
British Extreme Clipper Ship of 1867
Full hull model built in 1980 | Scale: 32' = 1"
Glazed case of figured walnut veneer and trim: 14 1/2" L x 9 1/2" H x 6 7/8"
A fastidiously smart looking full hull model set up on delicate turned pedestals replicates in splendid craftsmanship the appearance of this successful tea-clipper that was designed and in Scotland during the mid 19th century. The vessel's long slim hull, sleek bow, high deadrise, and rounded stern form a perfect symmetry, and its tall masting and yardarm configuration blend to provide an overall convincing vision of what this ship would have looked like. The attractive Gothic architecture and wood tones of its large cabin and deck furniture typify the quality of workmanship that was expected during this grand Victorian era.
The model's hull bottom is entirely coppered with individual plates with a green oxidized coloration, the topsides are black, it has planked natural decks, and its three ship's boats are a contrasting white color. It carries all the necessary deck gear and fittings per research, e.g. wheel box, skylights, ladders, hatches, pumps, below deck ventilators, and forecastle anchoring gear. The hull is elegantly decorative with a female figurehead in white and various scroll-work and embellishments around the stern. The model is fully ship rigged with all standing lines and a good percentage of running rigging, and also includes its split topsail arrangement and the innovative roller-reefing mizzen topsail yardarm which was a characteristic of this vessel.
Model type: Extreme Miniature, Waterline
Scale: 32' = 1"
Size: 14 1/2" L x 9 1/2" H x 6 7/8" W
Class: A/Special
Code: IYRS 3807