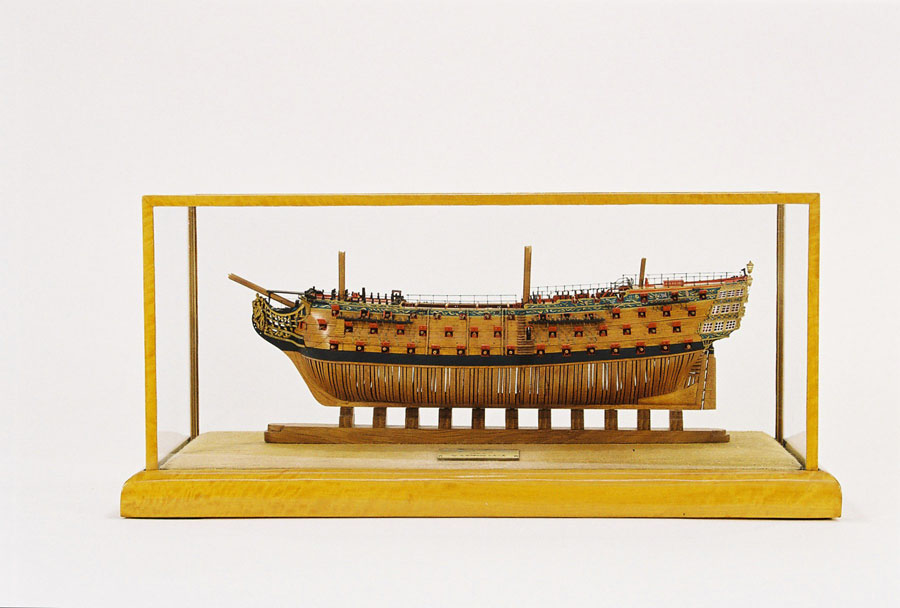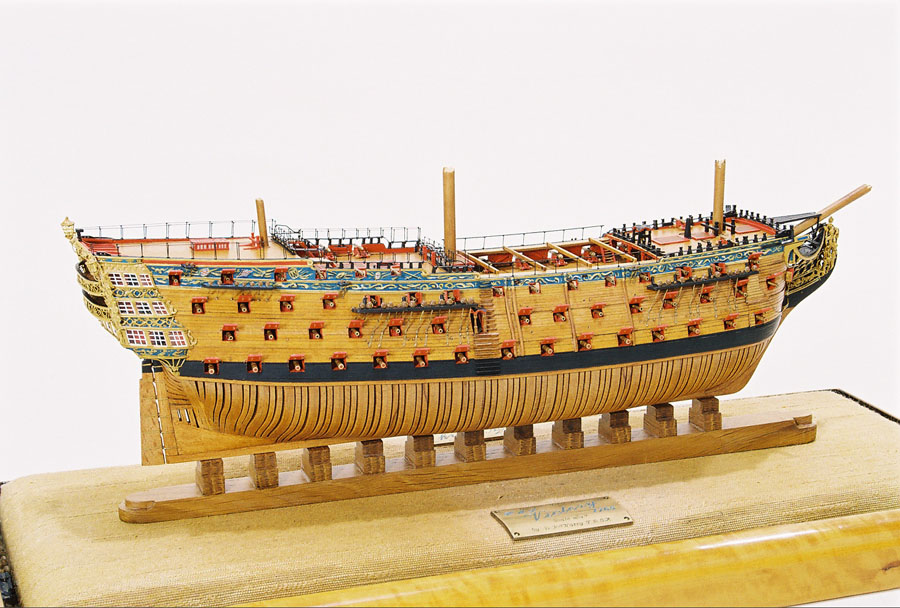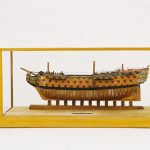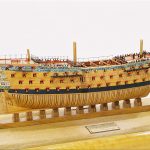 By: Donald McNarry FRSA
In October 2005 the 200 th anniversary of the Battle of Trafalgar will be celebrated by six days of celebrations in Portsmouth and at St Paul 's Cathedral and Trafalgar Square in London . The symbol - not only of this victory but of a newly triumphant naval power and future empire – was Admiral Horatio Nelson's flagship HMS Victory. McNarry empahsizes this honor by depicting the great ship in stately "Dockyard" manner, indicative not only of her illustrious history but of the traditions of the British Admiralty, in which prospective new vessels would be modeled to show essential elements of the hull. Originally quite ornate, Victory 's figurehead and stern gallery structures were covered in carved wood decorations of mythical figures and complex scrollwork. McNarry enlarges on this visual artistry by contrasting the vertical patterning of exposed ribs with the perpendicular banding of the horizontal frieze, hull planks and gunport bands. At Trafalgar her main dimensions were: burden, 2,162 tons; length of gun deck 186 ft.; length of keel for tonnage 153.1 ft.; breadth 51.5 ft.; depth in hold, 21.5 ft.; complement 850 men. In 1824 she was anchored at Portsmouth , England as the stationary flagship of the local naval command and a permanent memorial to Nelson, who died aboard her. After 157 years of service, in 1922, she was placed in her present berth, restored to her configuration as at Trafalgar, and preserved as a museum ship.
Reference: Model Shipwright, Number 76, June 1991, pp. 13-16, D. McNarry FRSA.
Model type: Extreme Miniature, Naval, Sail
Scale: 16' = 1" Scale
Size: 19 1/2 " x 7 1/2" x 8 3/4"
Class: A
Code: EXM 2002