Ville de Paris
Sold
Popular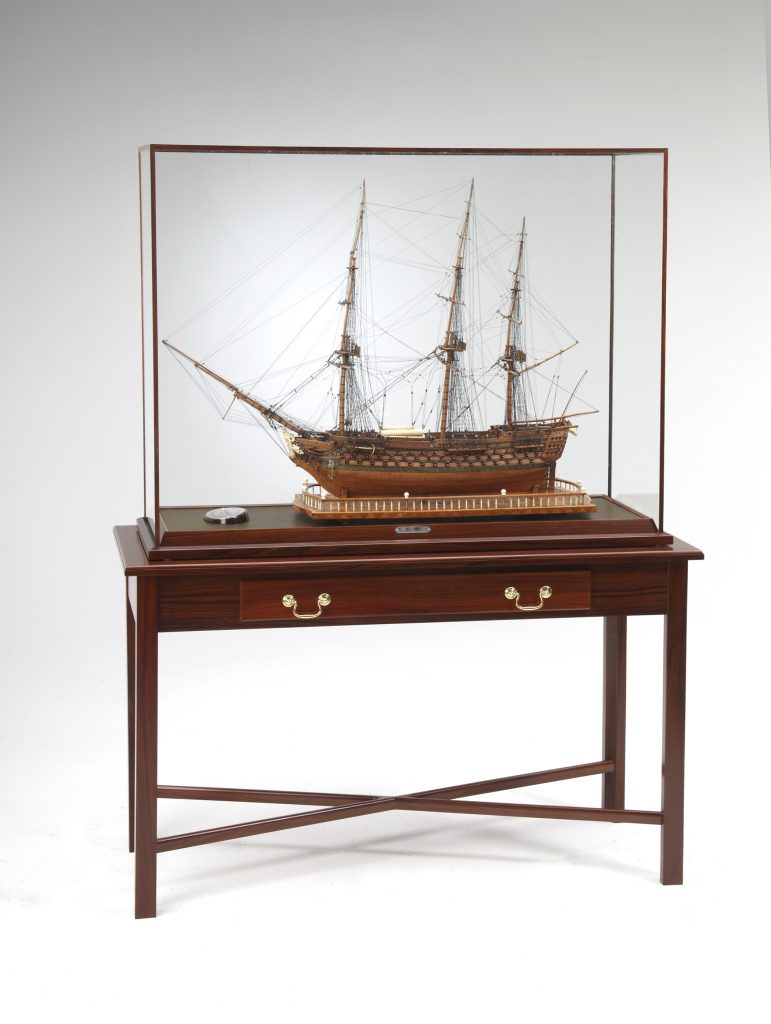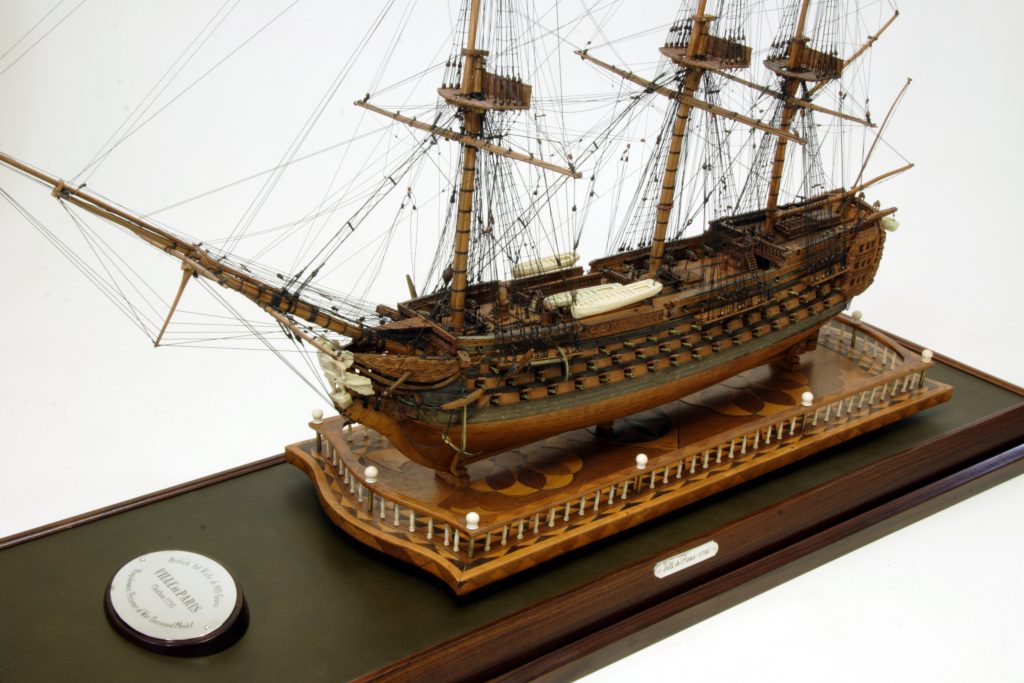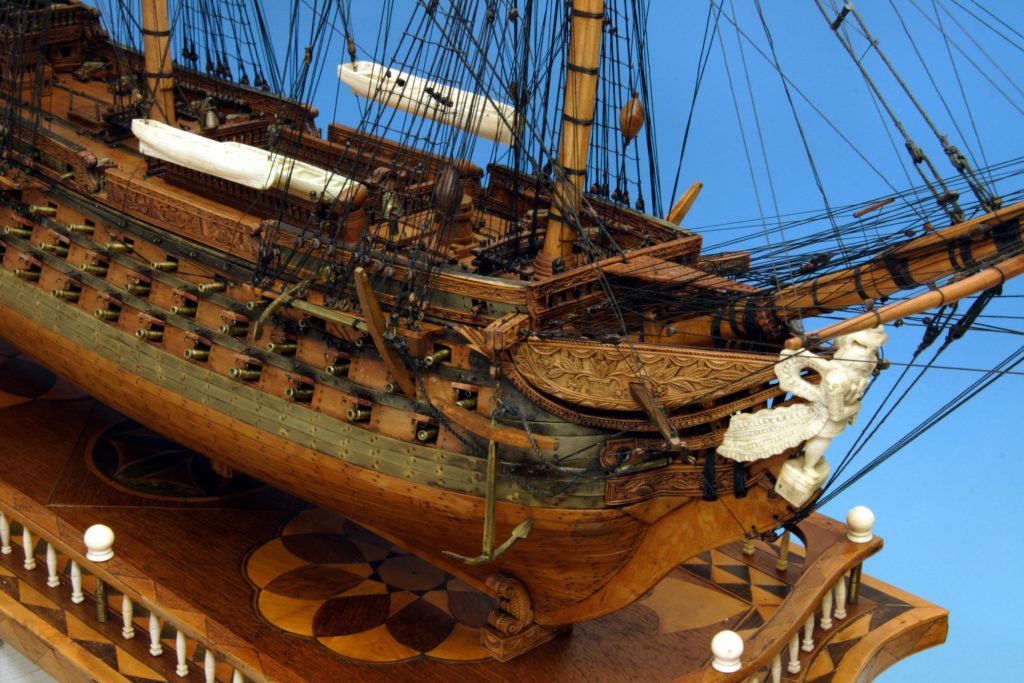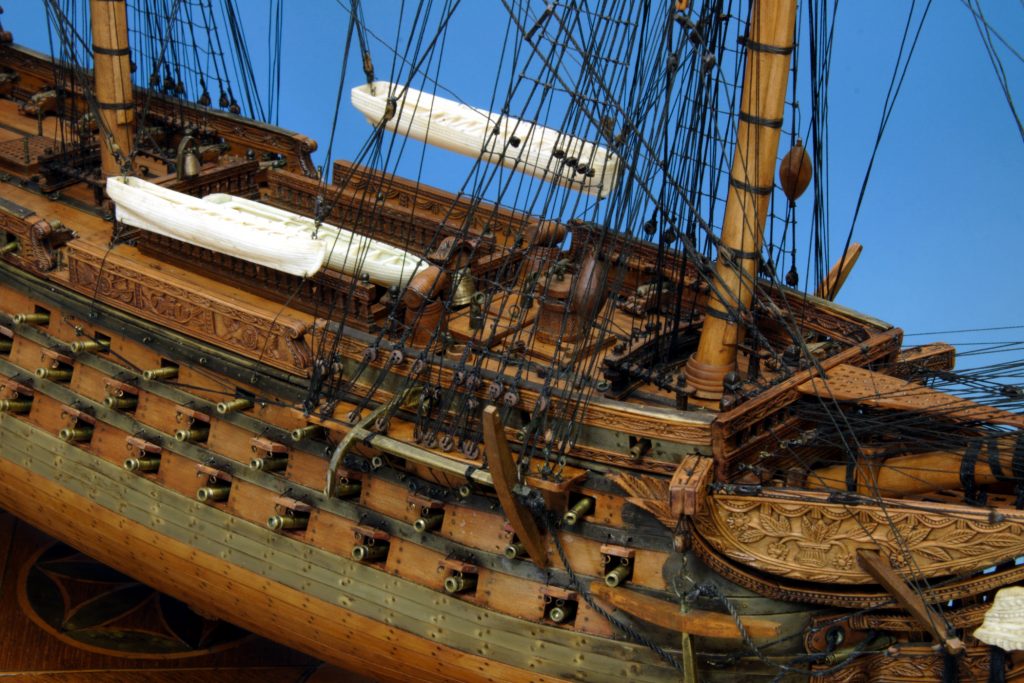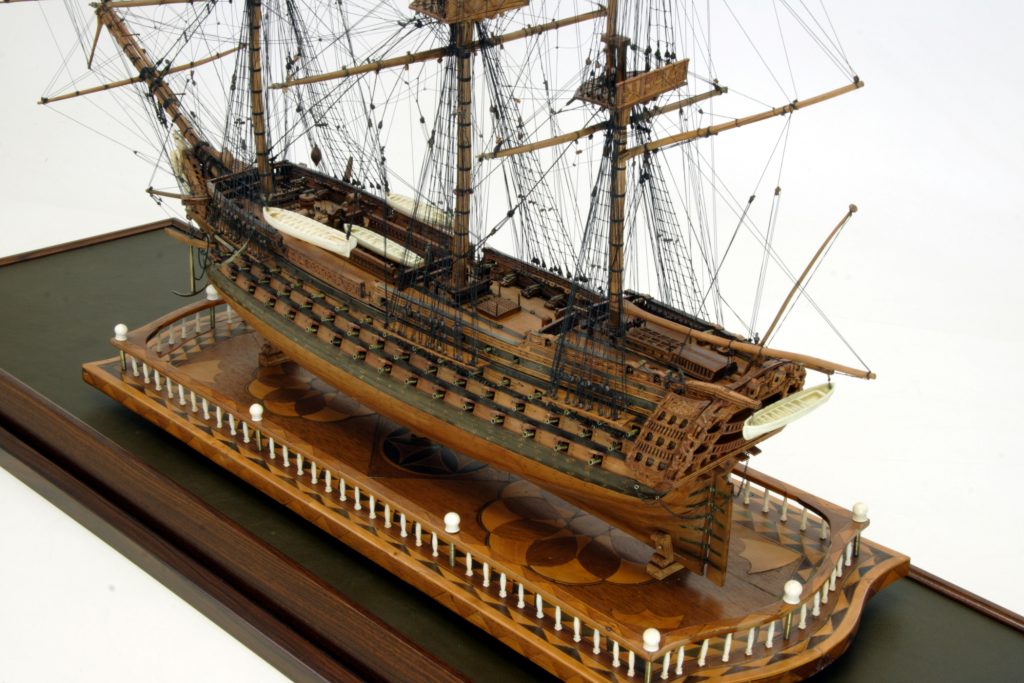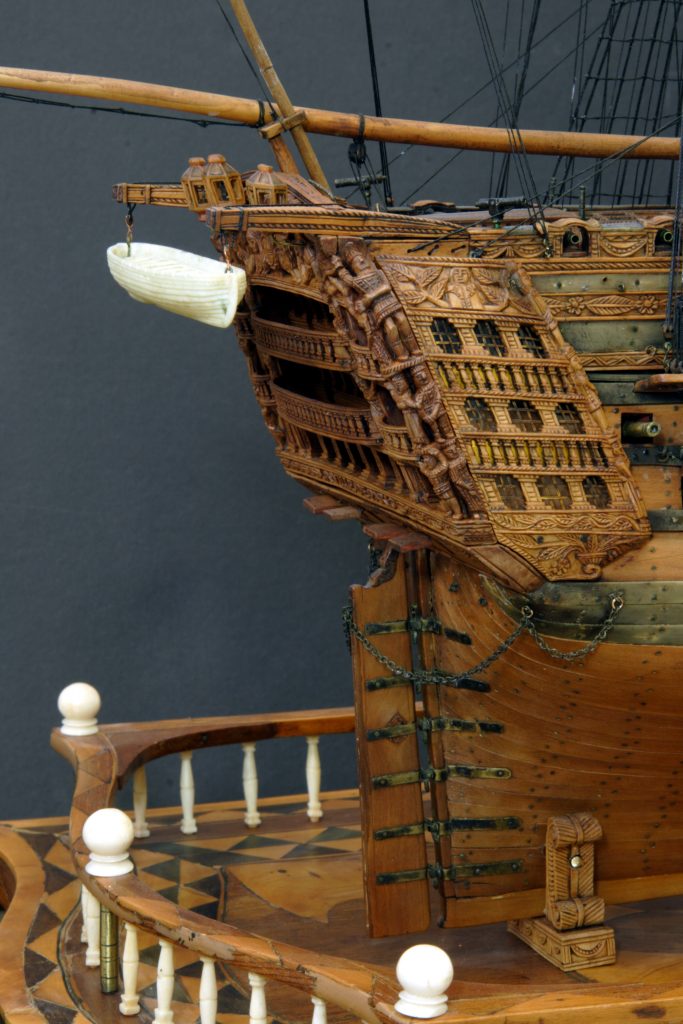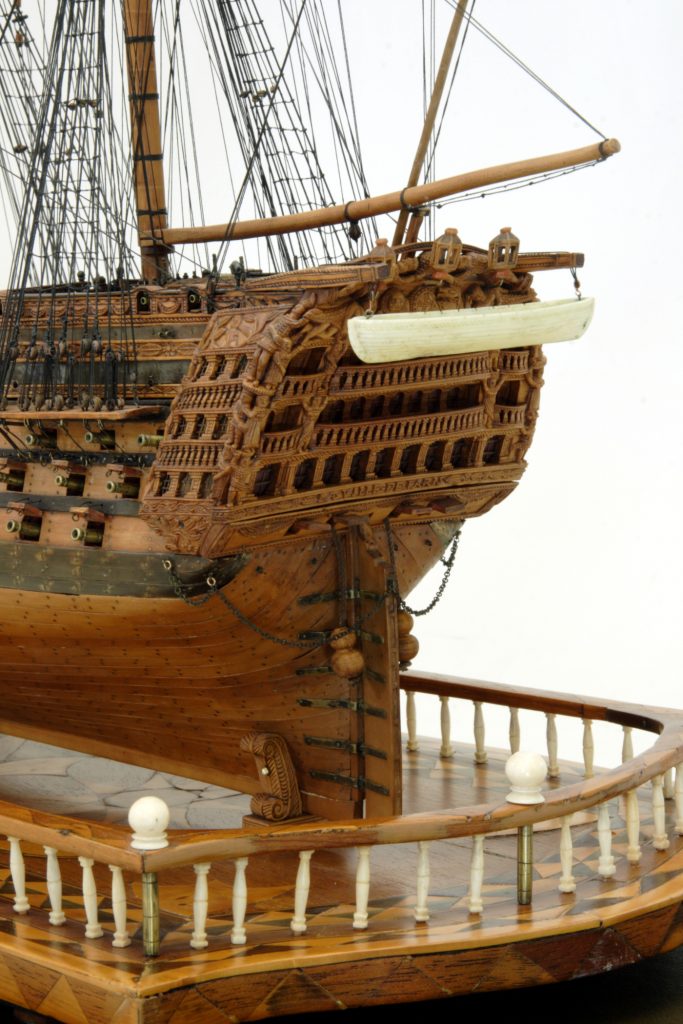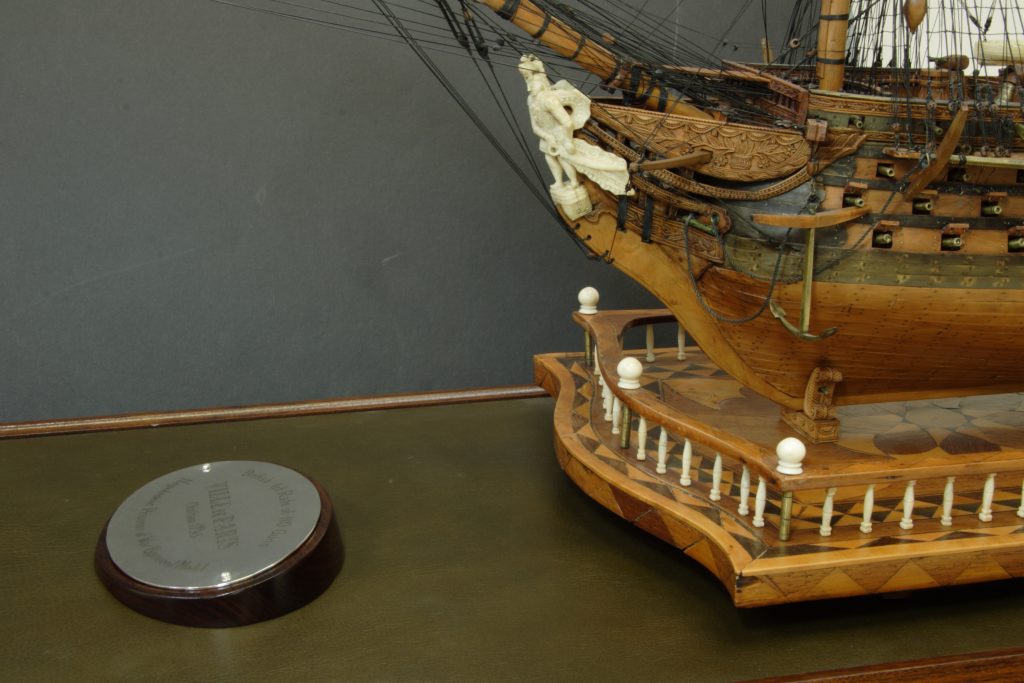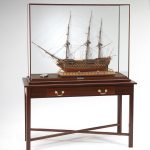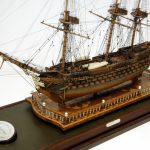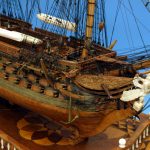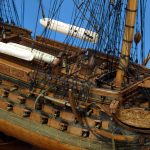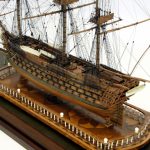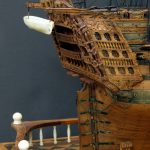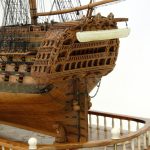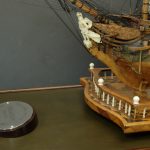 By:  NAPOLEONIC PRISONER-of-WAR
H.M.S. Ville de Paris was ordered by the British Admiralty in 1788 from the design by Sir John Henslow and was to be built at the Chatham Dockyard. Originally to be a 100-gun ship it was quickly changed to 110-guns at 190' in length. However, it was decided to lengthen the hull during construction to 201' 2" producing a vessel of 2,499 tons. She was subsequently launched in July of 1795. It was most notably the Flagship of the Mediterranean fleet in 1797. Then it served as the flagship of Admiral John Jervis, 1st Earl of St Vincent during the Battle of Cape Saint Vincent in 1799 and later he took command of the Channel Fleet off Brest in 1800. Admiral Collingwood died aboard her of cancer while on service in the Mediterranean, off Port Mahon, on 7 March 1810. She was later broken up in 1845.
Finely crafted model showing all-natural boxwood finished hull with baleen gunport and upper strakes, which are all pin fastened on a semi-framed hull. It includes all gun port bands, gunport lids with red interior, decking and natural masts, spars and upper masts. The model has significant carving details along its outer bulwarks, quarter galleries and stern galleries, name lettering, and a full bone classical warrior figurehead. It is full rigged per naval practice of the era with bone blocks, blackened cordage, and with two ship's boats hanging from its rigging as though being hauled out-board, another one set in the waist, and one hanging off stern feather davits - all of bone. The model has a retractable gun deck mechanism and is mounted on an original plynth with various marquetry inlay work showing floral patterns, shields, and geometric design, as well as and wooden surround cap railings with bone stanchions. Custom fitted display case with the baseboard and glazed cover trim in matching rosewood, baseboard has a savoy green leather top, with hand engraved sterling silver plaques all set upon a matching rosewood table with working drawer.
Condition: Very Good [Professionally restored by H. Nissley c.1940's; conservation by American Marine Model Gallery 2011]
Provenance: Provenance: Exhibited at the Museum of the City of New York. Parke Bernet Galleries (Sotheby's) 1941, private collection, Michigan.
Model type: Naval, Prisoner of War Model
Scale: NA
Size: 45" x 16" x 64 1/2"
Class: A/Special
Code: ANT 3013