Prince de Neufchatel
Sold
Popular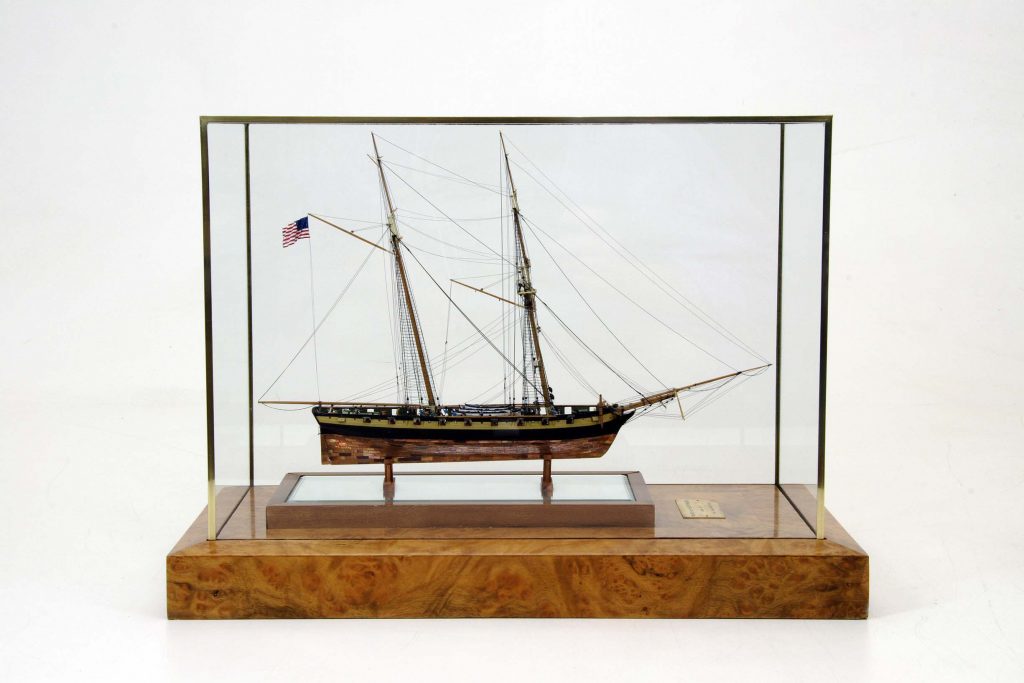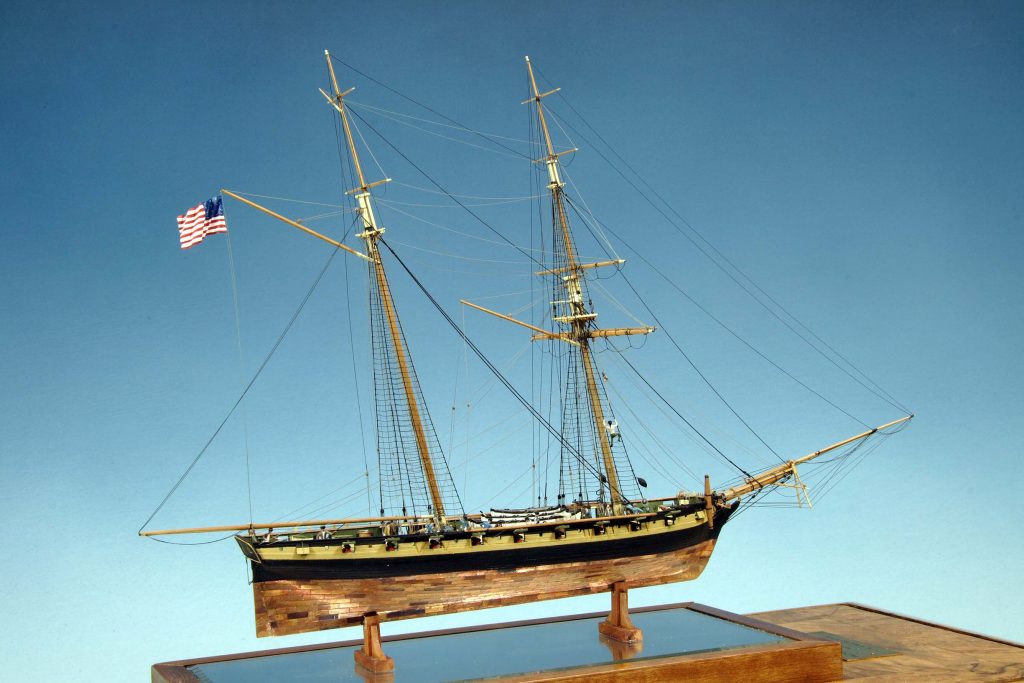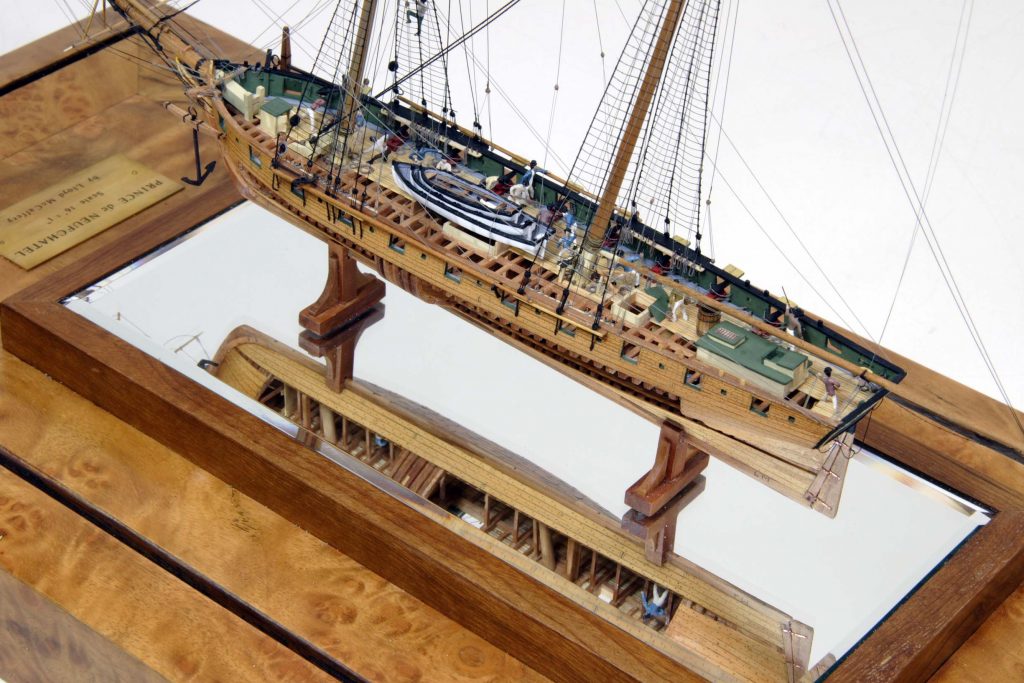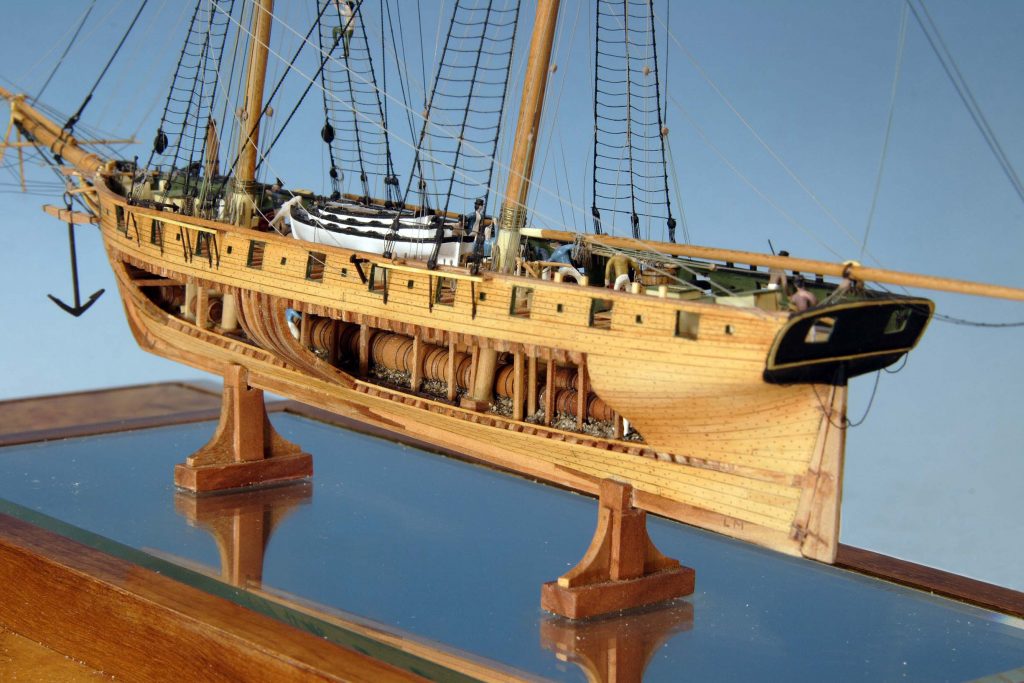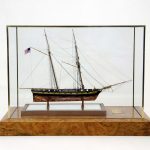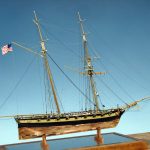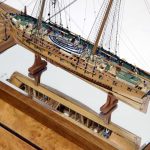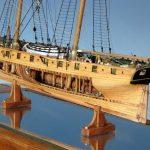 By Lloyd McCaffery
American Privateer 1813 Full-hull model built in 1987 ·  Glazed case of Acacia burl veneer
This stately model with its rakish masts and well-proportioned hull typifies the awesome power of the American bred 'Baltimore clipper' hull design. This eighteen gun privateer was able to confront most enemy ships without trepidation knowing it could either out fight or out maneuver them at will. The competence of the craftsmanship exhibited here demonstrates the marvelous approach to this subject. The application of multi-medium seems to have an effortless style of neatness and finesse, which not only brings about a sense of realism but also artistry.
Depicted in a full-hull presentation, the model's starboard side is fully planked and copper-sheathed, with black topsides, ocher gunport band and black rails with light-green interior bulwarks. Her deck houses are white with green tops and it shows all other suitable gear, e.g., anchors (no windlass or capstan), pumps, tiller, winches, sweep ports, and hatches, as well as various hand-painted figures, some of which are arranged as a practicing gun crew on the starboard side. On deck it shows three nested ship's boats, and the port side deck planks are removed, exposing deck beams and interior accommodations below. The port side is completely natural-finished with a two-thirds cutaway presentation exposing the interior lower deck, casks, ballast and provisions. A section of fully built-up amidships frames are included, as well as visible ceiling planks. All are fastened with treenails. The model is authentically rigged according to naval practice of the era.
Illustrated in McCaffery's book: Ships in Miniature, #78-79, 1988.
Model type: Extreme Miniature, Cut-away
Scale: 1/16" = 1'
Size: 15" L x 11" H x 8" W
Class: A/Special
Code: IYRS 3808