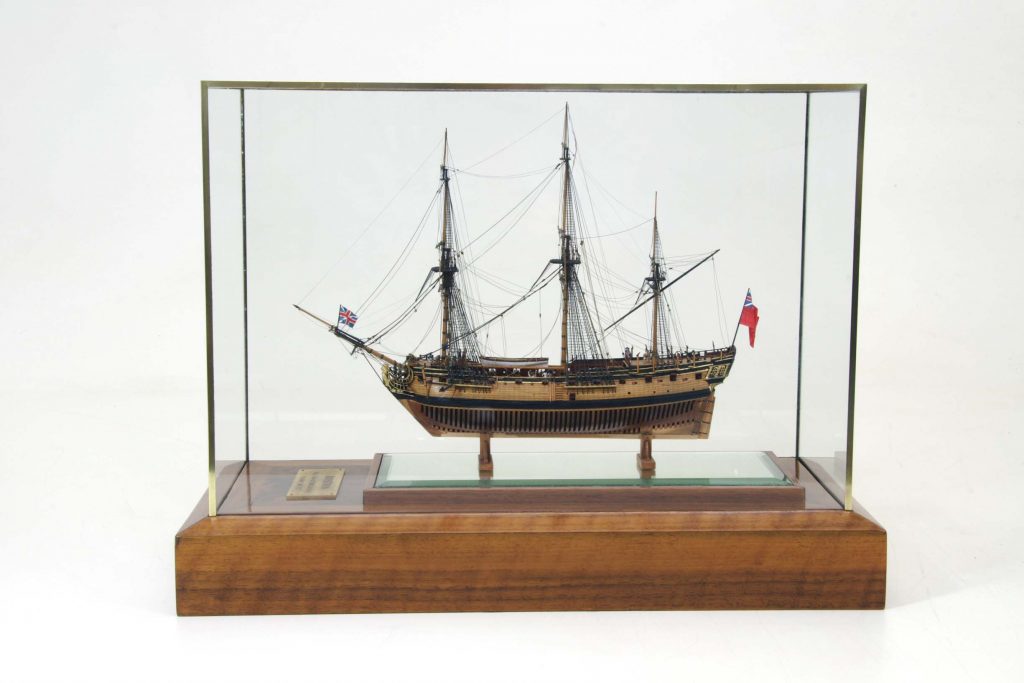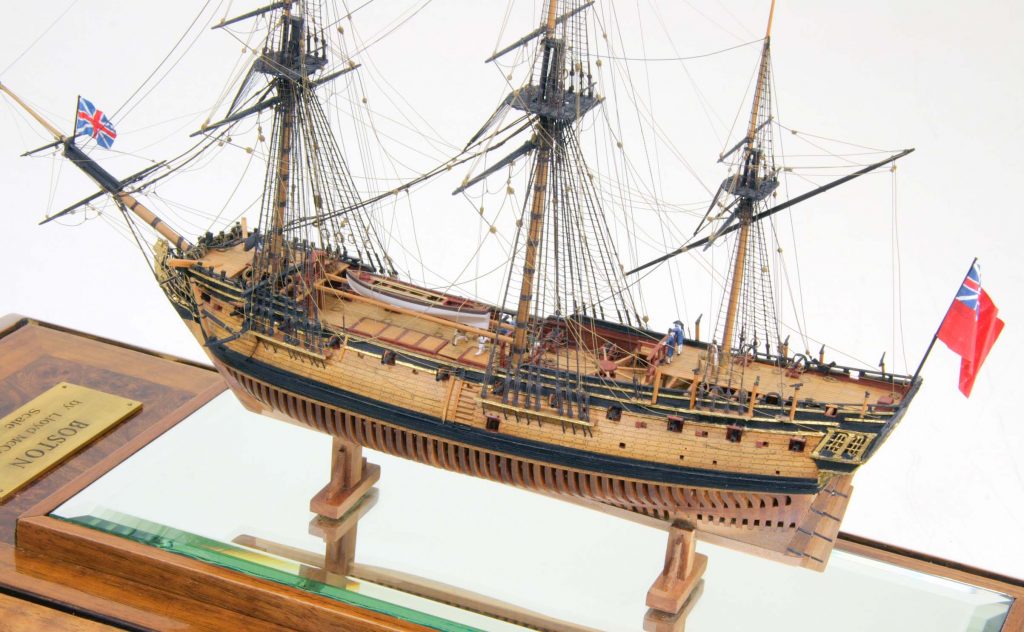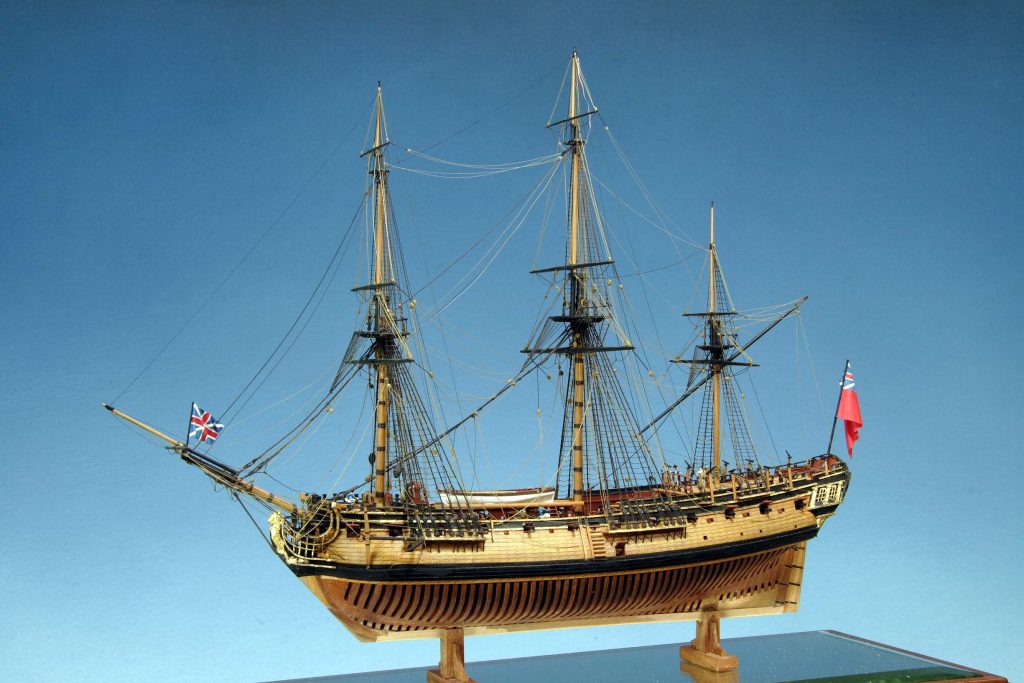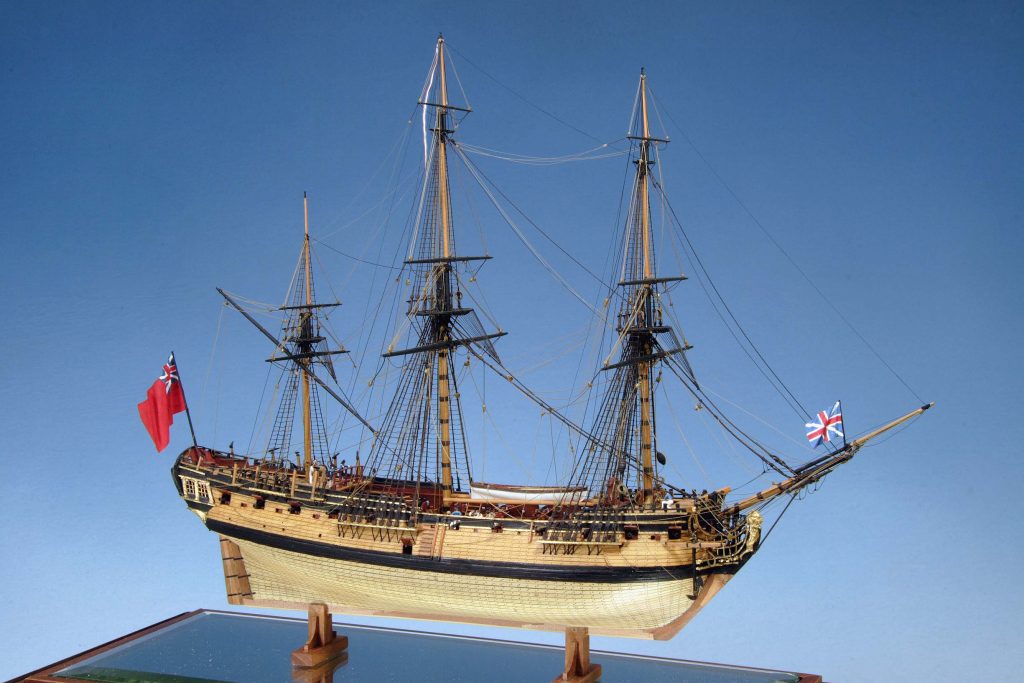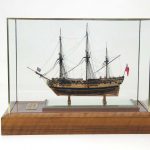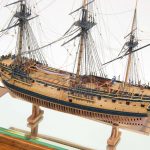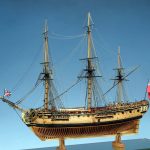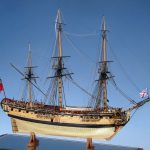 by Lloyd McCaffery
American-Built British Naval Frigate of 1747-48; Full-hull model built in 1984 · Glazed case of walnut veneer
There is a serious propensity of robust strength that exudes from this model's formal full hull presentation. Not only is there an immediate impulse to understand the nature of this 24-gun British frigate of 1747, but an urge to scrutinize every detail of its construction and rigging. One quickly appreciates the intelligent and systematic approach to instill realism in its rigging format, as it conveys a wealth of delicate web-like beauty that only a talented artist of dexterity could create. The inspirational use of various wood tones and paint colors work to accentuate the vessel's symmetry, and the diminutive decorative gilt carvings at the bow or stern seem to add a subtly of compassion
to this sizeable ship-of-war.
This replica presented in full-hull composition shows its starboard side fully planked and treenail fastened. The realistic color scheme provides an all natural-wood finish with a black main wale and black upper rails with interior bulwarks of red. The deck arrangement shows all pertinent gear and furniture per its known design with the capstan fitted with turning bars, its large ship's boat set up on gallows booms, a catted anchor on the port bow, and even includes a selection of work-action figures and a small vignette of a gun-crew on the starboards side. Also evident are the numerous galley rowing ports along the hull sides. The port side is constructed to expose the framing on its hull bottom and deck, while its topsides are planked-in. It has a carved Lion figurehead and delicate beakhead scroll work, as well as quarter badge windows and stern. The model is accurately rigged per practice of the era and includes the typical lateen mizzen.
Model type: Extreme Miniature, Admiralty Style
Scale: 1/16" = 1'
Size: 16 1/4" L x 12 1/8" H x 7 1/2" W
Class: A/Special
Code: IYRS 3812